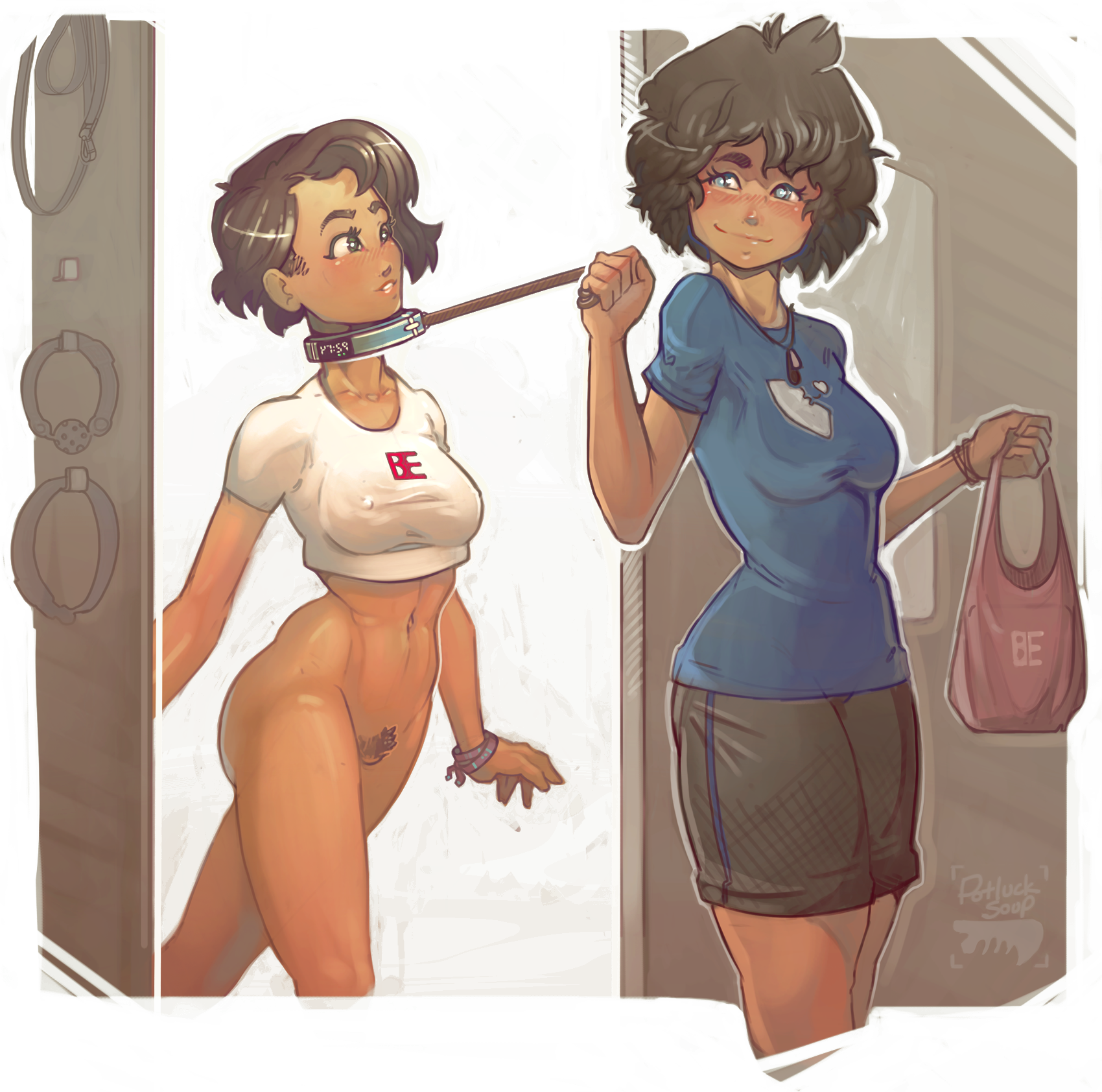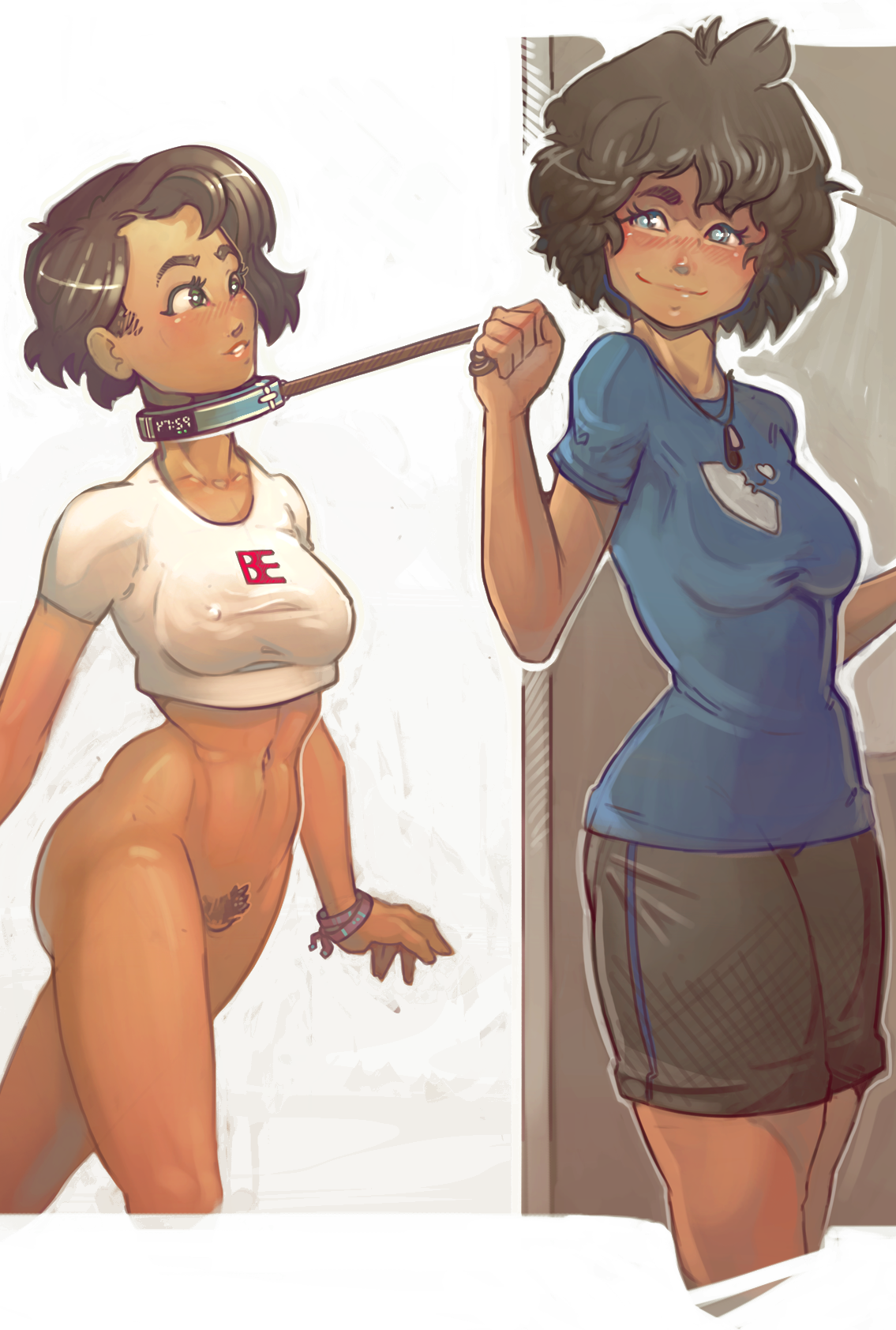 The delivery girl was a welcome surprise. I hadn't expected to see one of the baristas at my favorite coffee shop on my doorstep.
Her name was Penny. She was a little shorter than I, had bight green eyes, and a face that always looked happy to see you. Her tight body was something people took notice of. Most of the time it was tucked neatly into her work outfit. Now though, she was nearly nude. That pretty little barista wore nothing more than a tight white crop-top, some purple sneakers, and a thick collar wrapped around her neck.
The plastic collar meant only one thing. She'd washed away her mind so that her body could be used as nothing more than a living sex toy. That sweet woman that greeted me each time I ordered a hot tea was long gone. Her thoughts, every part of who she was, a thousand miles away, lost in a sensual dream.
"Are you supposed to be here?" I asked. I peeked around outside but saw no one who might claim her. She was holding a full looking bag in one hand. In the other was a letter that I took to read.
Hello Sir —

I know you said you said you were feeling ill last time you came in so I wanted to get you a little get-well-soon present since you're one of my favorite customers. Is soup okay? It's chicken noodle from the place across the street. I heard you talking about it once, hopefully that isn't too weird.

I also wanted to get you something to make your weekend extra nice. It's me (surprise). I thought it might be fun if I got blanked and then, you know, you could do whatever you wanted to me. It can even be something (gulp) extra slutty, if you'd like sir!

You can have my body all weekend too. Just drop me off at the coffee shop whenever you're done. You don't even have to wash me off after, I like when people see me all used. Thanks!"

-"P"
Her gaze followed my hand as I set down the letter. Taking her by the chin seemed to deepen the enchantment on her mind. Her cheek pressed against my palm and a tiny moan slipped from her lips.
Softly pressing her chin upwards, I peeked at the collar. The tiny digital display told me she'd be nothing more than a mindless toy, my toy, for the rest of the weekend. When I released her, she waited obediently, like a puppy waiting to be petted.
She seemed so pleased to be touched. Her breath quickened. Her back arched when I ran a hand up her hip. Between her legs I sampled the wetness building there.
I've never seen eyes look so needy from such a little touch.
A leash still hung on my wall, a souvenir from a story for another day. With a snap it was on the blank's collar and with a soft pull the she was following behind me, eager to be used again and again.
"I think I'll bend you over and help myself to your pussy." I told her. As I said it, she sauntered up to my desk, bent over, and presented herself for me to use like a living sex toy.
"Amazing. I'll have to visit you at the coffee shop more." I took the living toy in my hands. "I have some fun toys to try out on you. Lets find out what your slutty body can do."
This post is is a thank you post to fellow smut artist @ante_pen. They delivered an absolutely lovely in-universe drawing to me when I was sick. You might also recognize their barista, Penny, from an earlier short as well.
Today's short is, of course, drawn, written, and posted @ante_pen's enthusiastic permission. All my thanks go to them. Please go give them all your love and support!
One! a comic experiment in the style of Jucika! (that should say "penny orders the wrong soup" in hungarian, at least according to google translate)
Two! a "get well soon" colored sketch for @potlucksoup ! Chicken soup and a blanked Penny? Ya BETTER get well soon Potluck! ? pic.twitter.com/tD6yEBBZoD

— PennyAnte-nsfw-arting (@ante_pen) June 9, 2020